Jingle Bells, Jingle Bells...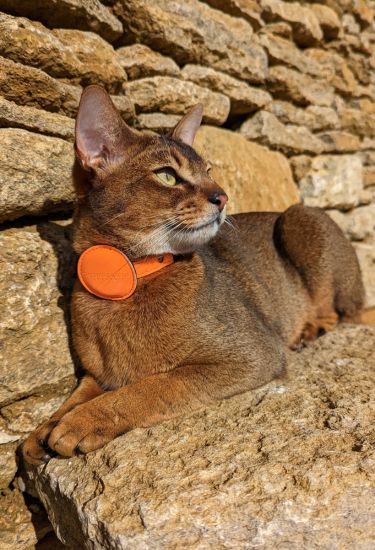 Our lightweight cat tracking solution
"What greater gift than the love of a cat?" - Charles Dickens
Safety First
We take your cat's safety seriously.
All Cheshire & Wain collars incorporate a discreet breakaway catch for your cat's protection and your peace of mind.
The original creators of leather safety collars for cats.
Designed by us, trusted by cat lovers across the world.
Veterinarian recommended.
Rigorously tested for tensile strength.
Designed to break open only when it matters most.
CATS OF THE MONTH
Milo & Meeko
These gorgeous boys are Bluepoint Ragdoll brothers who have been inseparable since birth and share absolutely everything!
Milo is best known for his outgoing personality and will take any opportunity to play or show off. Meeko has a far more gentle temperament who loves to be held and cuddled frequently.
Ragdolls are known as a quiet breed, but these boys are very vocal and like to share their thoughts with their owners regularly.
Milo and Meeko wear Rococo Collar in Powder with Aquamarine Gem to match their gorgeous eyes.
Premium Cat Supplies and Accessories Online
Welcome to Cheshire & Wain, London – your premium supplier of cat accessories, designer cat collars, pet beds and furniture. We have everything you need to truly pamper your precious kitty, with the most purrfect selection of cat supplies online....
We love our online community of cat lovers, and we're here to help you give your pets the life they truly deserve. Your feline friend is someone to treasure as your constant companion, and we have everything you need to treat them. We are committed to providing you with cat supplies and accessories of the highest quality – designed for cats, made for cat parents.
We carefully curate our range so you know you are giving your fancy feline the very best. Our premium cat supplies are tailored towards every stage of life – with kitten accessories for the moment you bring them home and welcome them into your family, through to luxurious pet beds and cat furniture. Then of course, there are the luxury cat collars that are Cheshire & Wain's specialty – stylish gifts for filling your cat with pride.
Our breakaway cat collars set themselves apart from anything else on the market. We designed these with your pet's ultimate safety and comfort in mind, with a special quick-release buckle that automatically breaks open if the collar gets caught. This will protect your pet from being injured. It's a crucial piece of hardware which is exclusive to our range of leather safety collars, designed by us and made here in the U.K.
Take a look through our stunning selection of stylish designer cat collars today and find something that truly matches your feline's personality. Feline mighty fine indeed!
Read more
Frequently Asked Questions
The best way to introduce a collar to your cat is to let them sniff and investigate it first. You might hold it out to them or leave it on the floor in an area they regularly spend time in. Another tip is to rub the collar with your cat's blanket or bedding, so it's blended with their scent and therefore feels more familiar.
Then, gently place the collar around your cat's neck when they're calm. You might try doing this while they're distracted by food. Give them a treat once their collar is on for positive reinforcement.
When choosing a cat collar, there are several aspects you'll want to take into account. For example:
Comfort: First and foremost, you'll want your kitty's collar to be comfortable to wear. If they find it irritating in any way, they'll be sure to let you know or take it off!Fit: You don't want the collar to be too loose or too tight. Check out our fitting guide to find the perfect fit.Material: How durable is the collar's material? You want it to last, and grow with your feline. That's why our ranges are made with the finest Italian leather for ultimate durability, developing a beautiful patina as it ages.
Style: Of course, you also want to choose a design that's stylish and fits your cat's character! Here at Cheshire & Wain, we have a wide variety of colours and styles to choose from.
Cats need to be stimulated, with plenty to keep them entertained. The best toys for cats will keep them active and engaged. We have a wide range of toys to choose from here at Cheshire & Wain – including leather teaser toys for your fancy feline to chase, catnip toys they'll go absolutely crazy over, and the Valerian Cloud Toy: super soft and filled with potent valerian, a great new alternative to catnip!
At Cheshire & Wain, we carefully curate our range to ensure all items are high-quality, safe, and made to last. It's important to consider:
Material: What are your cat toys been made with, and how durable/ sturdy are they? Are these materials safe and pet-friendly?
Manufacturer: How reputable is the brand or manufacturer who has made them?
Discover our range of premium cat supplies online today.