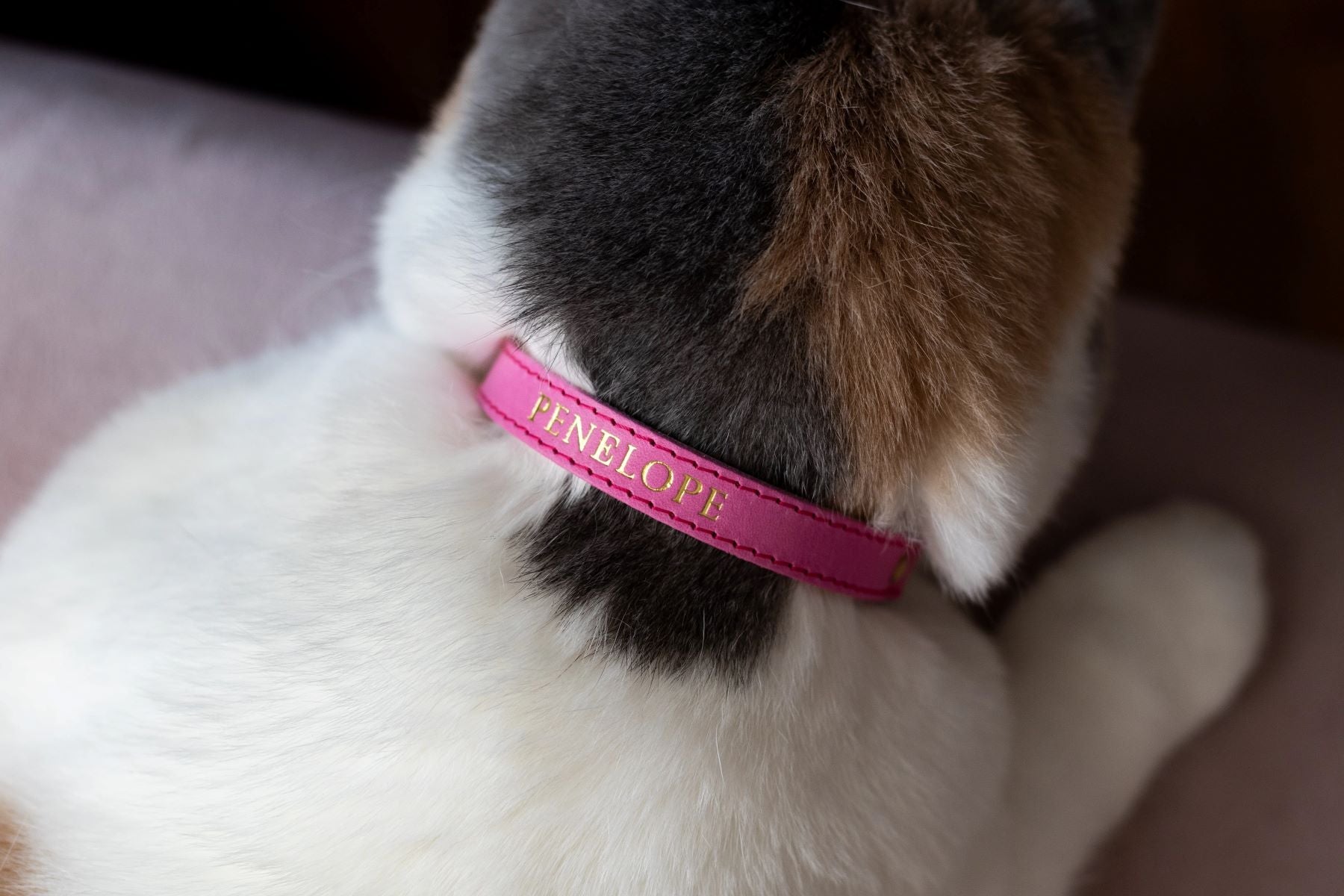 Custom Cat Collars
Want to give your kitty's collar an extra special touch? Here at Cheshire & Wain, we create personalised cat collars, featuring your beloved companion's name....
Each design is specially handcrafted here at our East London studio by our experienced collarsmith, with a close level of attention to detail. We'll emboss your pet's name directly onto the leather strap in your choice of silver, gold, or blind (no foil) embossing – so it will always be clear who the collar belongs to! We also have a wide range of colours and styles to choose from to suit your kitty's personality.
At Cheshire & Wain, we love our feline friends, and believe they deserve to be treasured and spoilt! Made with love and care, from our family to yours, our personalised cat collars are crafted with fine Italian leather and suede, which is durable, comfortable and luxurious to wear. Purrfect for your kitty!
We also have a custom engraving service, so we can attach a custom ID tag featuring your pet's name, along with your phone number. This is always helpful in the event that your adventurous kitty goes walkabout! Having your phone number engraved on the ID tag will make it easier for your pet to be returned to you safely if they find themselves far from home.
Take a look through our beautiful selection of designs and make your choice today.
Read more
Of course! Here at Cheshire & Wain, we craft personalised cat collars for your pet. Simply add your pet's name in the notes when you place your order. There is a 12 character limit (including spaces) – however if you wish to have a longer message, simply get in touch with us and we'll advise if it's possible.
We can engrave your phone number and your kitty's name onto an ID tag to make it easy for people to contact you if your kitty goes missing. Having a personalised cat collar and ID tag shows people that your cat is not a stray (and that they have a loving home).
Your custom cat collar tag has a small ring attached, which you can thread through the metal hardware to attach to your cat's collar. We engrave this ID tag with your contact details, so your kitty can be safely returned to you if they go missing.
All standard orders process within 5 business days. However, our personalised cat collars may take an additional 10 business days to produce, as they are specially made to order.
Should you require your order sooner, please get in touch with our team and we'll advise whether it can be done. We also have DHL Express shipping available for a fee, to make sure your order will reach you as fast as possible.